myMail – Email for Hotmail, Gmail and Outlook Mail
Email App – View All Your Emails in a Single Inbox
If you receive a lot of emails in multiple email accounts every day and are having difficulty in sorting them out then this email app can be of great use to you. myMail – Email for Hotmail, Gmail, and Outlook Mail is a useful app that lets you view your emails from multiple accounts in a single app. It allows you to sign in to all the different email account you have at once. You can then receive all of your emails in a consolidated inbox. This ensures that you will never miss an email ever again. Moreover, this app enables you to sort the emails you receive in different folders so that they can be easily tracked later on. However, despite its numerous benefits, this app is intrusive and can compromise your privacy.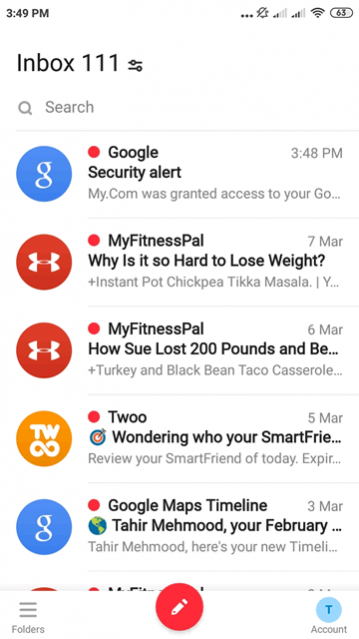 myMail has a user-friendly interface that meshes well with its intuitive design and layout. You won't have any issues in navigating this email app. On the home screen, you will find a list of the email accounts that you can sign into. All of the major email clients are listed there so you won't have any problem in finding the email client you use. Also, you are given the option of choosing multiple accounts for a single email client. This means that if you have 4 separate Gmail accounts then you can sign-in all of them at once in this app. Do keep in mind that upon signing in, you will be asked about a variety of permissions that can put your privacy at risk.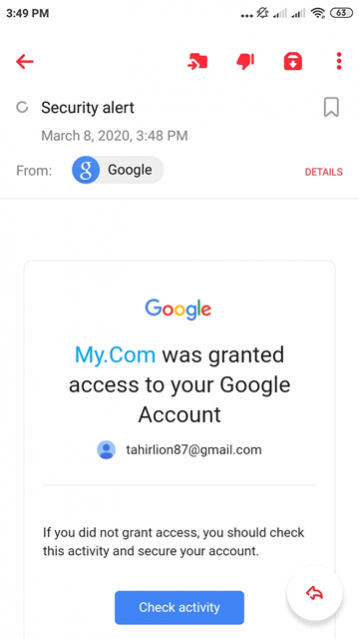 This email app aggregates all of the mail that you receive in the different email accounts you have signed in. You will find mails from the different inboxes in a single inbox. However, you can easily differentiate between them thanks to the avatars assigned to each email. It will take you a second in realizing which email account a particular email belongs to. Moreover, you can also add folders in this app for the different types of emails you might be receiving. There are filters and sorting options provided to quickly track down important emails. Also, you will receive notifications for all your emails too. So, whenever an email is received in any of your email accounts, a notification will pop-up on your screen.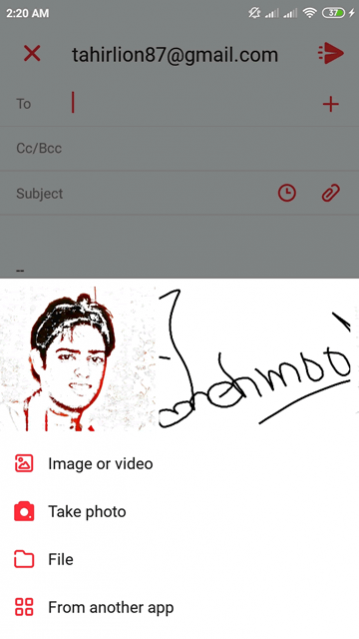 myMail – Email for Hotmail, Gmail, and Outlook Mail gives you the chance to preview emails to get an idea of what message they contain. You can read an email simply by clicking its title. If the email has an attachment, this email app allows you to view it within the app. All the attachments can be saved on the device if you want to view them offline. In addition to receiving emails, myMail enables you to send emails from multiple accounts while using a single app. The process of composing the email remains the same and you can add files as attachments to the emails just like you would in Gmail or other email clients. Thus, with this app on your phone, you won't need multiple email apps on your device.
Features:
User-friendly interface
Intuitive design and layout
Multiple email accounts to sign-in
Get notifications for each email you receive
Receive emails from all accounts in one inbox
Preview and read the emails and reply to them instantly
Option to view attached files within the app
Forward emails of any account to people in your contact list
Compose emails with a tap of a button
Add attachments and photos to emails with ease
Conclusion:
myMail – Email for Hotmail, Gmail, and Outlook Mail is an app that is designed for people who have multiple email accounts. It provides them the chance to have their emails from Hotmail, Gmail, and other email accounts aggregated in one inbox. It is a nice email app to have on your phone if you aren't too bothered about the privacy of your emails.
---
Add a review
Tell us your experience with
myMail – Email for Hotmail, Gmail and Outlook Mail
RELATED PROGRAMS
Our Recommendations
---
---
---
---